Team Building
NMCI provides Team Building courses to suit our clients from all areas of industry. These courses can involve group exercises in our environmental pool, damage repair unit and our 360 degree bridge simulator. This high end team building program involves out/in door challenges and problem solving.

Boost Moral!
Build Team Identity!
Discover Talents!
Communicate Key Messages!
Deepen Relationships!
Refuel Enthusiasm!
…all at the NMCI.
Team building is an important task for any manager. One can always assemble a team, but building up a team to perform at its best is not a given. As the cliché goes, there is no "I" in team. Every individual contributes to the success – or failure – of the team, and the best way to get to the top is to make sure that the whole team operates as one efficient unit.

Fortunately at the NMCI we have some of the most modern facilities in Europe to deliver a unique team building day.

Our packages include varied Team Building exercises and our clients may select and tailor their own day:

We use a variety of different facilities during the course of a typical team building day. We use our Bridge Simulators, Environmental Pool, and Damage Repair Unit. Along with our Instructional Unit, Gymnasium and College grounds to enhance the experienced.
What our Clients have to say...
"The facilities at NMCI are world-class and the NMCI instructors did a terrific job of leading us through a series of exercises. I would recommend the NMCI team-building course to anyone that is looking to strengthen their team and encourage a greater sense unity and camaraderie within their organisation."
Gerry Docherty, Technical Superintendent, Ardmore Shipping
Wet Events
The intensity and competitiveness of the exercises will be dictated by the robustness of the group and are offered in three levels.
• Level 1: Fun and enjoyable day out in a relaxed atmosphere
• Level 2: Competitive
• Level 3: Boot camp Style (very competitive and physical, aimed at adrenaline junkies)
The wet events you may avail of, but are not limited to, are the following:
1. Swimming Strip Mania. (Level 1,2,3)
2. I'm a Casualty Get Me Out of Here! (Level 1,2,3)
3. Mayday Relay. (Level 1,2,3)
4. Escape to Victory. (Level 1,2,3)
5. Life Raft Mayhem. (Level 1,2,3)
6. Sinking Feeling. (Level 1,2,3)
7. Splash and Dash. (Level 1,2,3)
8. Rope Walk. (Level 1,2,3)
9. Debris Recovery. (Level 1,2,3)
10. Land Ahoy. (Level 1,2,3)
*Important that people requesting the course should discuss with us what layout they want for their team building day.

• 1 Swimming strip mania
The group shall be split into two groups of six. Each group must enter the pool from a height of 4 meters and form two swimming strips that shall compete against each other.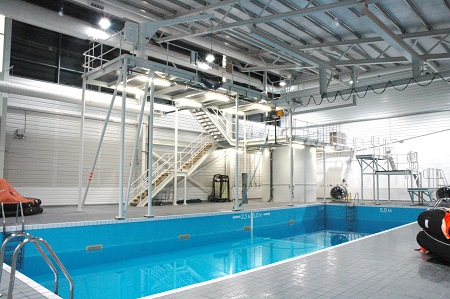 • 2 "I'm a casualty get me out of here"
The group shall nominate one from each team to step off the poolside with quoit and line and recover the casualty. The remaining members of the team shall assist their team members by towing them back to the poolside.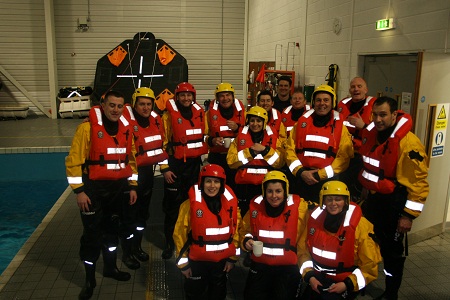 • 3 Mayday Relay
Each team will direct three members of their team to enter the water safely and swim in the proper manner and take up evenly spaced positions for the water relay race.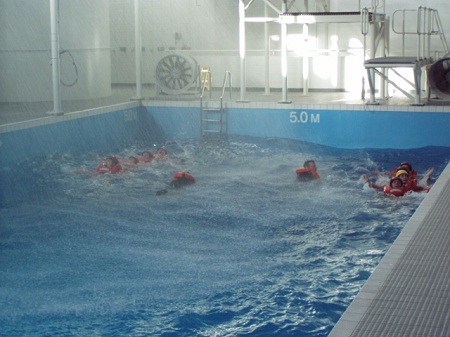 • 4 Escape to Victory
Team members must work together to repair all cracks and holes in the sinking ship. People must use hammers, wedges and quick thinking to concur this physically and mentally draining task. This is a timed exercise were all team members must work together as many hands really do make light work for this challenge.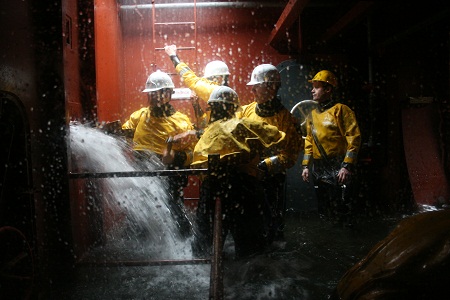 • 5 Life Raft Mayhem
Two inflatable Dinghies are manned in the pool by the team members and raced to the other end of the pool. Elements may be used to increase the challenge.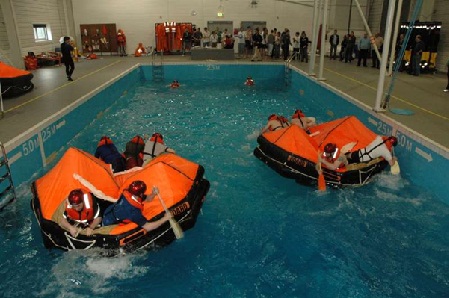 • 6 Sinking feeling
Confidence builder.
All team members are encouraged to do the following:
Two metres jump.
Four metres jump.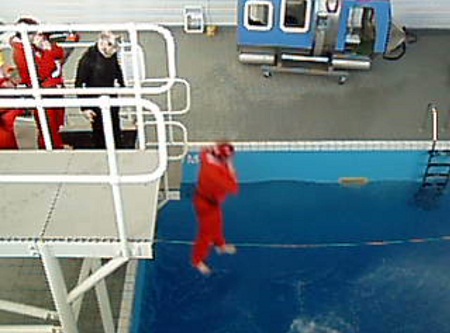 • 7 Splash and Dash
Only one attempt allowed.
Six members are selected by the group to represent the group.
They will step off the two-metre platform and form a swimming strip and make for the other end of the pool.
The exercise is timed and only one attempt allowed.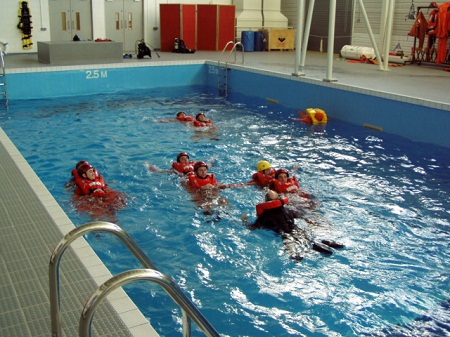 • 8 Rope walk
Two tensioned ropes are led across the pool, you must motivate your team and get them across.
But be prepared wind, rain, thunder and waves can strike at any time!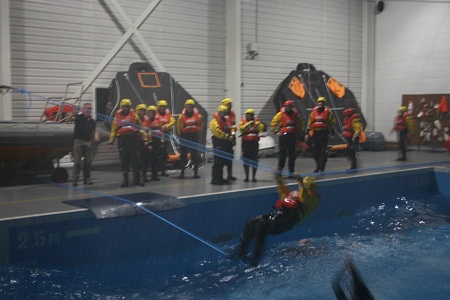 • 9 Debris recovery
Each group will direct two members of their team to enter the water in the correct manner and swim safely while blindfolded. The participants must swim as directed by their team and recover as many objects as possible within a given time.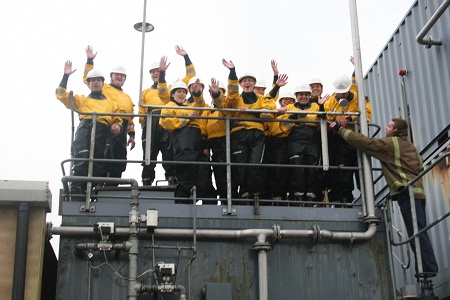 • 10 Land Ahoy
This involves a Navigational race around Governors Island in New York Harbour, in one of the College's cutting-edge bridge simulators.
This simulation affords the opportunity to bond team members in a simulated realistic environment on board a virtual computer generated craft which has all the characteristics of a real ship.
* Half day team building packages start from €130 per person based on 15 attendees. Why not contact us today at + 353 21 4335609 and we can tailor a team building package and price to meet your specific requirements."
*To orgainse your own Team Building day, contact us today: nmci.services@mtu.ie